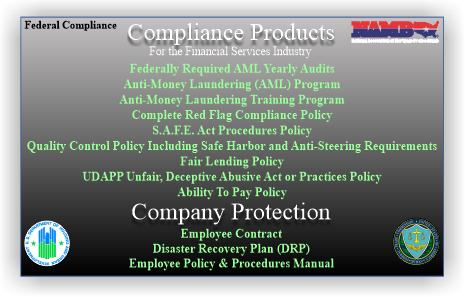 Here's what one of our policyholders had to say:
"We just had our audit and the compliance officer
for Texas said your Red Flag Policy and Checklist
were the best he has ever seen. He scanned
a copy of it for his files to use as a benchmark.
Nice work"
Want more information? No problem!
Call us at 513-259-1312 to speak
directly to a representative.

Thank you. We look forward to serving you.

Compliance Products
Click here for S.A.F.E. Act or Quality Control Policies
COMPLETE RED FLAG COMPLIANCE POLICY
Many lenders are now asking you to prove you are compliant to the Red Flag Rule. State regulators are looking for Red Flag compliance during audits and examinations. WE PROFESSIONALLY WRITE YOUR POLICY FOR YOU. Compliance to the Rule does not have to be difficult, time consuming or expensive. Majestic Security will provide your company with everything you need to meet the Rules requirements.
YOU WILL RECEIVE THE FOLLOWING…
And, WE DO IT ALL FOR YOU! ORDER NOW!
Only $349.00 complete